Our daughter… she is just 5 years old. She reads level 3 books; book of human anatomy; newspapers, magazines, and other word she sees be it in public or a warning message in a product, even a bible. Reading stirs her curiosity.
She also counts 1 to 100 in ones, fives, tens and elevens.
Now let's talk about numbers. Before she went to kindergarten, we played numbers by counting 1 to 100 with our morning walks, counting our paces. We counted more than 100 until she complains she is tired, and then we stop. Learning is not fun when she is tired. So we play some other silly games.
Just recently, attending in a charter school with accelerated curriculum, they were tasked to count by 5 for up to 100. This is where we began to have creative fun with it. In 3 days, she has mastered counting by five to 100. One of the very helping tools is this: counting by 5 in a colorful hand-traced paper cuts. Those were her hands in the picture, cut into different colors using patterned papers and some cut outs from magazines. And how surprisingly they also look beautiful on the wall. Just make sure you are using the magic tape so it won't leave a nasty mark on your wall.
To make this, get a variety of patterned paper sheets or beautiful pages of a magazine. Trace your child's hands on a piece of bond paper, and then cut its shape. This is your hand pattern.
Place the hand pattern over one or two patterned papers or magazines, then cut to the shape of the hand/pattern. Make 20 of these. 
Get a magic tape and cut about 3 inches long. Roll it with sticky side out and paste together the other ends, thereby forming a ring. Stick the other side of the ring to the back or wrong side of the patterned paper/magazine, then let your child stick them to the wall.
Let her/him start counting by five. The number of fingers will help him/her figure out the next number of a series of skip counting. 
My daughter was surprised that in a very short period of time, she counted 100 fingers!
This project is perfect for your classroom too!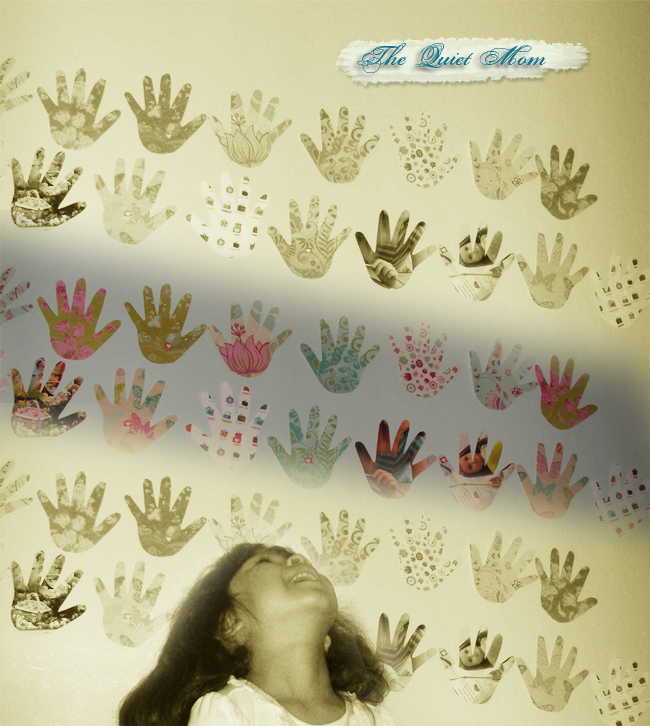 Thank you for stopping by at The Quiet Mom Kitchen Diary. Bon appétit!
I thirst for helpful and inspiring comments. Kindly drop some below. Thanks much!